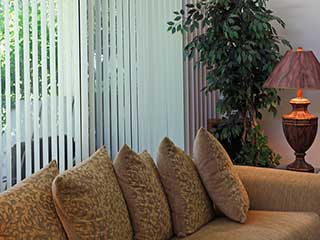 Large windows are a particularly smart place to install vertical blinds, and many businesses and homes across the Saratoga area have chosen to do exactly this. It's no surprise that our range of amazing custom design options is a big attraction for customers, and we offer the best selection around. Saratoga Blinds & Shades's vast catalog of materials, colors, styles and design options lets you take total control of your new vertical blinds. From vertical blinds for sliding glass doors to ones for your workplace, we offer everything you need. Find out about our made-to-measure window coverings today with a free consultation at your property. Call us now to book an appointment with our team.
Vertical Blinds For Your Home
There are very few properties that don't stand to benefit from our high-quality window coverings. We know exactly what a difference these products can make turning drab and dingy rooms into amazing-looking spaces. Vertical blinds for windows are one of our most widely-installed products and give you wonderful comfort and privacy where you need it the most. A common choice is to install vertical blinds with curtains in the bedroom. This lets you exercise ultimate control over natural light levels, as well as keeping out unwanted attention. Learn how little vertical blinds installation could cost you by scheduling your free consultation today at your Saratoga address.
Best Deals On Vertical Window Treatments
You can never settle for second best if you want your home to be truly comfortable. That's why our wood, vinyl, and aluminum blinds are all manufactured to the highest standards around. Of course, that doesn't mean you'll have to pay top dollar for them. We're proud to give Saratoga residents (and nearby home/business owners) access to our low prices no matter what type of custom vertical blinds they need. We're the go-to provider of vertical blinds near you, so when it's time for you to upgrade your property you know we're the company to call.
Quality Vertical Blinds For Your Office Space
Own office spaces in Silicon Valley or near it? Saratoga Blinds & Shades provides low-cost vertical blinds for office windows that are the perfect way to enhance comfort, privacy, and productivity at your business. No longer will your employees or visiting customers need to put up with dazzling sunshine and headache-inducing glare. In fact, you can pick amazing designs for your office that make it look sleek, stylish and attractive. A comfortable environment makes for a more productive workplace, which is why you should speak with one of our advisors today. Actually, you should consider investing in motorized vertical blinds as well. These easy-to-use systems can be quickly fitted in any meeting room or inaccessible area, making it fantastically easy to keep natural light at the perfect level. They're also much more affordable than you might imagine, so get a free quote today.
Free Quotes On Custom Motorized Vertical Blinds
Whether you need to keep out the unwanted sunlight glare at your workplace or you want motorized vertical blinds for patio doors at home, we're ready to help. For the best service and shading products around, at the most attractive price point, it's our Saratoga-based team that you need to speak with. Get in touch today and we'll book your free consultation with no obligation to make a purchase. See the diverse selection of materials (like wood, metal, and vinyl) you can choose and the wonderful color combinations. Then, customize the type of vertical blinds you want for windows, skylights or glass doors. Once you finish, we'll craft the new blinds and return to install them when it's suitable for you. Book a free in-person consultation appointment today and see the fantastic range of options you can choose from.