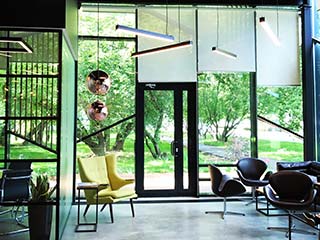 Motorized shades, such as Lutron motorized coverings, bring real advantages to any property. The first benefit you'll notice is how attractive these shades look. There's an enormous range of designs and materials to pick from, and motorized window coverings fit perfectly with any style of interior design. The second advantage you'll notice is just how impressively they improve comfort at your property. Easily control natural light levels at your property with nothing more than the press of a button, when you install Lutron motorized shades. They're an excellent way to upgrade your property in the Saratoga area.
Lutron Shade Solutions, Sheer/Blackout
The central role of window coverings, no matter what design, is to control the level of natural light in a property. There are two approaches. The first is to diffuse natural light, spreading it around the room and creating a soft ambiance. This is ideal in living rooms and kitchens, where you want to keep the room well-lit and comfortable. For this purpose, sheer shades are ideal. Lutron motorized shades in sheer materials are very popular for this reason and are often used to cover up large living room windows, for example. The other approach is to block natural light entirely. Many people want to keep their bedrooms dark and guarantee privacy when they need it. Blackout motorized shades are the solution here since they completely cut out all light. Add convenient remote control solutions to this and you've got a fantastic addition to any property.
Smart Controls for Wireless Motorized Shades
The big bonus to choosing wireless Lutron shades is that there are never any wires running across floors or walls. These systems, designed with silent motors, simply fit in place without the need for external power sources. They can even connect to your WiFi network, and link to your smart home system if you have one. Thanks to this ability, and the range of remote control options, it's never been easier to install Lutron motorized shades anywhere in your home or business.
Lutron Shades Custom Made For Saratoga Properties
We focus on customers first and provide a first-rate service to all our clients in the nearest areas. The team provides free consultations to guide you on the ideal motorized window shades for your property, along with free estimates on all work. That makes discovering the full range of Lutron automatic shades a great experience, and one that's easy to begin. To get started, all you need to do is schedule an appointment for a free estimate. Find out how smart Lutron shades can benefit your Saratoga area home or workplace environment!