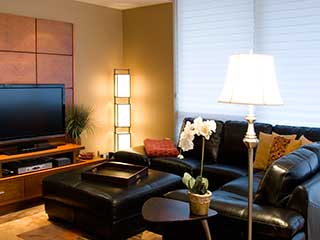 Certain styles of window coverings can be too much for different spaces. Whether due to the size of the area, such as in small apartments, or the treatments drawing too much attention away from the décor of a room. Saratoga Blinds & Shades experts can help you find something simpler and more compact instead! Roller shades roll up when opened, hence their name. They take up very little space because of this. Roller shades are also very straightforward. They have strong lines that will complement the room, without completely overtaking it. If this sounds right for you, learn more about them here:
Motorized Roller Shades For Saratoga Windows
You may find it surprising to discover that getting motorized roller shades installed can help you save on energy! That's because motorized roller window coverings can help reduce the amount of direct sunlight pouring into your home/office during the day. All this sun causes the temperature to jump and will make your AC run longer in response. Thus – wasting energy and money. However, with motorized roller shades, you can close them the moment the sun moves onto that side of the house. They can do this automatically, based on the time or brightness/temperature levels. You can even connect your motorized roller shades to your smart home system, and it'll handle that for you!
Perfect TV Watching With Blackout Roller Window Shades
Are you sick of sunlight getting in the way of a smooth TV watching experience? Don't want to deal with the glare on your phone/tablet/laptop screens? Regular window coverings, even when closed, may not do enough to darken rooms. Especially if they weren't made to fit your windows exactly, as cracks of light can come in around the outside of them. That's where our blackout roller shades come in! Not only are they made to block out any outside light, but they fit your window/glass door's measurements. Our custom blackout roller shades also suit Saratoga bedrooms and bathrooms for better sleep and improved privacy!
Sheer Roller Shades – Reduce Energy Spending
Sheer roller window coverings are a beautiful choice for many Saratoga homes and business environments. Sheer roller shades are great especially for areas where people will spend time for long periods of time. They're light and soft aesthetically, and allow natural light through to give your home a warm glow, rather than using harsh artificial lighting. While direct sunlight has its drawbacks, sheer roller shades help to take care of those problems! They diffuse sunlight, preventing harmful UV rays from passing through the fabric. But they still allow soft light in, illuminating the room without annoying glare. There's no need to worry about your furniture receiving damage, or from the room warming up unnecessarily. Our cellular sheer roller shades reduce heat, and protect your belongings, all at once!
Get Help Finding the Right Window Shades For You
Saratoga Blinds & Shades offers free consultations for customers from all over nearby parts of the bay area. That means you'll receive guidance from our professionals personalized to your needs and budget! We'll assist you in going over all the options for motorized roller shades or any other coverings. From blackout to sheer to entire setups with myriad options of their own. You get to customize your new window shades, roller or otherwise, however you want. Get in touch with us to arrange for a free estimate + in-person consultation at your office or home.