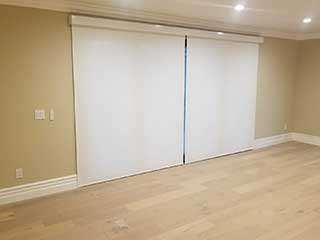 Need to improve privacy or block off sunlight completely? Blackout blinds are just what they sound like, window treatments that blackout a space by keeping out the light from outside. However, there is still a lot to know about them, which is why Saratoga Blinds & Shades is here to assist you! Our team will help you discover the style that works best for your requirements, for both homes and businesses alike. You'll know you've gotten the right fit for you thanks to our free consultations that allow you to discuss everything with our experts. For now, you can learn more information about these room darkening window covers below:
Blackout Blinds for Your Saratoga Bedroom Windows
Blackout blinds are perhaps the most useful and important for bedroom windows, due to their assistance in you getting a great night's sleep. We all need enough rest to keep our bodies working well and to remain healthy, and blackout window coverings assist with this exact thing! No matter what time of day you sleep, you won't ever need to worry about light from outside disrupting your rest. This is especially crucial for anyone who needs to sleep during the day, but is also helpful for those who enjoy naps!
Skylight and Sliding Glass Door Blackout Treatments
Even though skylights create a unique and lovely look for your home, they can also bring about their own set of troubles. If not covered properly, skylights will let sunlight come inside for long periods of time. Rather than let the sun's rays damage your furniture, and increase the temperature to waste your precious energy, get skylight blackout blinds from us instead! We create each set specifically to the measurements we take of your windows, so there won't be even a crack of light to come through. Patio doors can also let in too much direct sun, but we make blackout blinds for them as well to take care of this. If you're around this part of the SF bay, then our room darkening coverings can add a lot to your home or business.
Your Motorized Blackout Blinds Source in Saratoga
Motorized blackout blinds can be a helpful addition to any home, so make sure you get the best with our professionals! Whether you want to control them with a smart device and connect them to your smart home system or utilize wall sensors, we can set it up for you before you know it. No more wasting time fiddling with your window treatments on and off all day! You can set them up to open and close depending on how much light you want throughout the day, even when you're not home!
Blackout Blinds Will Assist Your Office Space
Improve the effectiveness of your Saratoga office with one easy step! Blackout blinds are sure to improve productivity, create easy viewing of project proposals, and more. Rather than dealing with glare on their computer monitors, your employees will be able to work without hindrance thanks to blackout treatments blocking out any distracting sunlight. There will also be no problem viewing presentations with blackout window coverings around. Do you want more privacy for important board meetings or your personal office? These can take care of that as well! Give us a call to set up a free estimate & consultation appointment at any nearby bay area residence or office.