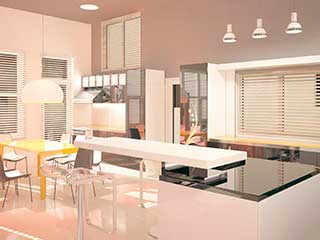 There are so many different types of treatments for your windows, it can be hard to know where to even begin! Thankfully, Saratoga Blinds & Shades is here to help introduce you to the various looks available, and what might be best for your wants and needs. Venetian blinds have been around and used for many years, and that means they won't go out of style any time soon! They can be an excellent fit for your bay area home, or office as well. This style offers customization in terms of materials used, and you can learn more about them below:
Blackout Venetian Blinds – Perfect Home Movie Theater
Why leave home to get that great movie theater experience, when you can replicate it in your own living room? Blackout Venetian treatments will plunge any room into complete darkness by keeping out all light from outside. Not even the slightest glow through the coverings will come through, nor will there be any gaps thanks to our technicians custom making each set. No more annoying glare on the screen, so you can give what you're watching your full attention without distraction! Blackout Venetian blinds are also great for Saratoga nurseries and bedrooms to help everyone sleep more soundly.
Finest Metal and Wood Venetian Blinds
The right type of material for your new Venetian coverings depends on what matters most to you! If cost is your main concern, metal Venetian blinds are best. If you want that, as well as hope for them to last a long time, aluminum fits these requirements. On the opposite end of things, to impress visitors and add classy aesthetic to the area, there are wood Venetian window treatments. Faux wood is also a possibility if you prefer lower maintenance. Our bay area-based blinds installers are here to walk you through all of this so you know you've picked the right fit for you!
Top Quality Motorized Venetian Blinds in Saratoga
Did you know that motorized Venetian treatments can both reduce energy costs, and help protect your furniture? This is because they make it easier to stabilize the temperature, keeping out direct sunlight so it won't heat up your home unnecessarily, or damage your belongings. They also make closing the Venetian blinds to keep heat in during the winter months simpler as well! From remote controls to using a smart device paired with an app and Wi-Fi, you'll have complete control over all your Venetian blinds to adjust them with just the press of a finger.
Beautiful Venetian Blinds for Saratoga Windows
Our technicians can't wait to give you a hand finding the perfect type of Venetian window treatments for your Saratoga property! We also measure the windows to make each set accordingly, that way it'll be an exact fit. Your home or business will look spruced up and new in no time with our help! Whether you'd like to find out more about Venetian blinds or are curious about other types, contact Saratoga Blinds & Shades today. We'll be glad to go over all the options with you and give you a free estimate!