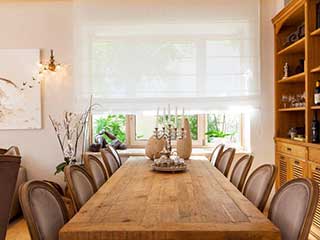 If you're a Saratoga home or business owner with a sense of class and a window or two to cover, Roman shades can elevate your property! Saratoga Blinds & Shades produces a range of window shades in any size and style. With a free estimate at your residence or office, we'll show you our fantastic window shade and blind collection for you to choose and customize. With Roman shades, the interior décor improvement earned is very significant. No wonder so many people choose them as their pleated window coverings.
So, What Are Roman Shades?
Have you ever seen those fancy-looking window shades that seem to ripple or gently fold up as they're raised? When they open all the way, the Roman shades become a stack of pleats that runs along the upper window frame, almost like a decorative ribbon. These Roman-style coverings have thin, semirigid panels or cords running through them that cause them to fold up in parallel lines when raised. This style of window covering never went out of style in the last several centuries, and isn't likely to anytime soon! Roman shades, relaxed, pleated, and flat have huge popularity all over California, but especially in the San Diego bay area. You can find them adding style to many homes and commercial businesses all over Silicon Valley and nearby.
Custom Roman Shades For Any Room
Since they fold up beneath rather than over the upper window frame, Roman shades work best on tall windows. Taller panes have more room to display the details of these shades, and they don't lose much by covering the top few inches. This means that aside from windows, Roman shades on French doors are a good fit. With some careful fitting and well-chosen colors, they can also make those doors even more elegant. Bedroom windows, living rooms, and galleries also do well with Roman shades. Foyers and waiting rooms in commercial establishments likewise, if you plan the decoration scheme right!
Great Window Shades For Kitchens And Bathrooms
The idea of installing fancy Roman shades in a bathroom window or kitchen might seem odd. However, in more spacious homes these rooms often have the windows for it! Roman shades for kitchens and bathrooms are best made from waterproof materials. Of course, with such a wide range of designs and colors, you can have your new coverings suit any type of décor. Different rooms will require more specific tones and styles, of course. Black, white, or gray Roman shades are probably the best bet for larger bathroom windows, while a kitchen could also make red, green, or patterned work.
Customize Your Roman Shades
One of the strengths of Roman-style window coverings is versatility. You can get them made in a huge variety of styles, including hobbled, banded, and fishtail. Our interior design team has years of experience with both the structural planning side of things and the decoration and color scheme matching aspect. We have a lot of special custom options on top of color and fabric Roman shades options. If you want something more fetching, try relaxed Roman shades with hanging middles, or add some slits or trim. Roman shades with curtains, valences, or even automatic motors are all available, and all present additional benefits.
Motorized Roman Shades – Wi-Fi & Bluetooth
Like most hanging window coverings, Roman shades often have you use a hanging drawcord to open and close them. These cords are tried and true, but they also have some serious drawbacks. If you don't want to have to run around adjusting the Roman shades, or if you have small children, motorized window coverings are the solution! These remote-controlled Roman shades offer childproof shading solutions, not to mention amazing convenience! You can also make your motorized Roman shades "smart" by having us add sensors, timers, or other computerized systems. Connect to your new motorized shades via Wi-Fi or Bluetooth and control them with your smartphone or other suitable smart devices.
Feel Like Caesar With Roman Shades
Improve the décor of any Saratoga property with Roman shades in various styles and colors. See our excellent collection by booking a free consultation appointment and have our experts come to you to provide it. From sheer Roman shades to blackout coverings and all the different motorized options – find your new window shading solutions with help from the leading Roman shade specialists in the SF bay.