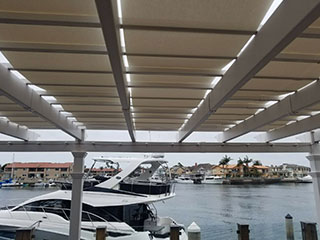 Controlling your exposure to dangerous UV rays and blazing sunlight heat outdoors is paramount for safety and health. While it can be fun to spend time lounging outside in your Saratoga patio, pergola, deck, or other spots, you need to take some precautions that will make the space a lot more welcoming and hospitable. Motorized patio covers are the answer, custom made for your specific needs.
Why Motorized Patio Covers and Canopies?
The use of stationary and attached covers for outdoor shade structures has some serious limitations. Without the ability to control the position of the cover, you're essentially stuck with what you have. Motorized patio covers let you add shade or open the sky up for you, and you can do it with the simple push of a button. Motorized pergola screens and canopies also provide additional benefits, including better privacy and protection from the harsh sun at lower angles.
Motorized Awnings Add Utility & Style
In addition to common overhead canopy options that motorized patio covers can add to your Saratoga outdoor lounge space, you have other creative options. Motorized awnings can extend past the structure frame, giving you a lower range of shade that keeps your eyes free from glare as the sun descends. Custom motorized awnings can add protection while extending out from walls as well, not requiring the same support as overhead patio covers do.
Pergola Canopy Motorized With Rolling Screens
For gazebos and other outdoor shade structures like pergolas, motorized canopies can add a lot to the comfort of the setup. Rolling pergola screens can protect you from the sides, which also has the added benefit of providing more privacy. Sheer pergola screens are great for diffusing sunlight while still allowing some light to pass without risking damage or annoying glare. Motorized pergola canopy options are great for adding overhead protection. Outdoor shade structures must have a reliable cover above, preferably one that you can adjust with speed and ease.
Free Quotes From Saratoga Motorized Patio Cover Installers
There's no need to waste time wondering what sort of motorized outdoor shading solution will best suit your Saratoga backyard space. Whether it's a deck, patio, pavilion, or pergola, we have a range of canopies and covers that can fit any need. And with custom sizes and design options, you easily find something that provides the precise style you wanted. Find out more about the benefits of different motorized patio cover options by booking a free estimate consultation with one of our experts near you!