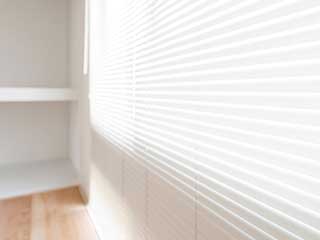 Here at Saratoga Blinds & Shades, we produce all kinds of treatments and covers for windows and doors. We pride ourselves on creating truly top-quality imitation wood textures for window blinds around the SF bay area. And we offer a dazzling array of different options to pick from. We produce faux wood window blinds in all sizes, so no matter what size window you have you can benefit from these attractive, practical products. Also, you can choose to motorize your new window coverings or gain total privacy with blackout options. Explore the amazing range of blinds made from faux wood materials that we provide to Saratoga and nearby cities.
Why Choose Imitation Wood Blinds?
What is it about imitation wood that makes it such a popular choice amongst Saratoga homeowners? There are plenty of reasons. Firstly, it's an incredibly attractive material. Our wood grain texture blinds look just like actual timber. This makes it easy to bring classic beauty into your home. Our faux wood treatments for windows are also incredibly practical. Lighter, stronger and easier to care for than wood, imitation wood requires a lot less maintenance. You'll never have to repaint imitation wood to keep it protected, and it won't suffer damage from moisture.
Blackout Faux Wood Blinds Deals
We supply an amazing range of blackout blind options using our faux wood products. When you need to make sure you can control the light entering and leaving a room, our blackout imitation wood blinds serve as the perfect solution. These are ideal for protecting your home from prying eyes or guaranteeing darkness no matter how bright it is outside. With blackout covers on your windows, you can maximize privacy in an effortless way. The benefit of blackout blinds, faux wooden or otherwise, makes them fantastic for Saratoga bedrooms, dens, and more.
Our Range Of Imitation Wood Blinds
We offer an amazing selection of top-quality imitation wood blinds in Saratoga. Thanks to our custom design process, you can easily create window treatments that perfectly suit your property. You can, of course, alter the size and other dimensions of the faux wood window blinds to fit any aperture. That's only the beginning, though. We offer a range of custom design options to make these treatments your own. Choose the width of vanes, the precise color that you want, and many other details that help define your individual style.
Motorized Faux Wood Blinds In Saratoga
Combine looks with utility by investing in our motorized faux wood blinds. We offer you an impressive array of ways to introduce 21st-century tech into your home. Our motorized units can be powered wirelessly or by the mains supply, allowing you to easily install these systems anywhere in your home. Thanks to our cutting-edge products, you can make use of impressive technology such as smartphone control. Imagine opening up your imitation wood blinds without even getting out of bed!
Affordable Blinds, Faux & Real Wood
Making your property look and feel its best doesn't have to cost a lot of money. We offer the best window treatments made of faux wood materials in the Saratoga area. And we keep our costs low to offer these beautiful covers to every local home or business. If you want to find out just how low, simply schedule a free assessment with our locally-based representatives. We'll help you understand exactly what our products can do for you, and will show you some examples of our high-quality faux wood blinds. We'll also give you a no-obligation quote for the work and products, helping you to budget your new faux wood window treatments. Don't wait any longer to improve your home. Contact Saratoga Blinds & Shades today for your free in-home consultation.